3 Axis Vertical Milling Centers (VMCs), number available: 5
Mainly Haas
The five, 3-axis vertical milling centers (VMCs), are capable of milling material in three axis and are equipped with the necessary components for speed, accuracy, and repeatability. Each VMC has the rigidity necessary to make quality parts day in and day out.
5 Axis Vertical Milling Centers (VMCs), number available: 2
Okuma
Unlike the 3-axis machine, the 5 axis moves in the three linear axes previously mentioned plus the A and B axes, which means that your part can be manipulated from all directions in one operation of the machine.
This option is ideal for deeper parts, parts made with harder materials, and more precise because of its shorter tools. Additionally, the five-axis option is usually faster than the three-axis alternative.
6 Axis Machining Center, number available: 1
Mori-Seiki NTX 2000 Mill/Turn Center The world's shortest tool spindle in its class (350 mm), ensures a wide machining envelop to increase productivity. Wide range of machining area with the X-axis stroke of 675 mm (-125 - +550 mm) and the Y-axis 300 mm (±150 mm).
Simultaneous 5-axis machining with the Direct Drive Motor (DDM) on the B-axis. 6-face machining is available with Spindle 2 to complete the machining of components on one machine.
7 Axis Swiss Turn, number available: 1
STAR CNC Full 7-axis turning and milling machine with a .75-inch maximum turning diameter with automatic bar feeding.
3 Axis EDM, number available: 1
In the EDM process, electric spark acts as a cutting tool, and helps erode material from the work piece. Thus, a finished part of required shape can be formed with this process. This process helps achieve high levels of accuracy and is an effective solution for challenging machining applications. The cutting tolerances of the wire EDM cutting are up to +/- .0001.
Abrasive Water Jet, number available: 1
Omax Maxiem 1530 CNC.
Working envelope of 62 inches x 120 inches. Uses a high-powered water jet stream and an abrasive material to cut a wide range of materials including metals, composites, plastics and more.
Laser Cutter, number available: 1
Amada Pulsar 4000W Laser A working envelope of 48 inches x 120 inches (with repositioning). 1000 inches per minute and capable of cutting upto .50 of hardened steel.
CNC Hydraulic Press Brake, number available: 1
Amada 88-ton capacity with a 96-inch maximum bend length.
Laser-Sintering System, number available: 2
EOSINT - Metal Printing Working envelope of 250 millimeters x 250 millimeters x 325 millimeters (9.85 inches x 9.85 inches x 12.8 inches) Layer thickness minimum .01 millimeter. Print materials include aluminum alloys, cobalt, stainless steel, titanium and others.
3D Printer Production System, number available: 1
FORTUS 900mc, working envelope of 36 inches x 24 inches x 36 inches. A professional 3D printer that uses Fused Deposition Modeling (FDM) 3D printing technology, also called Fused Filament Fabrication (FFF). With this 3D printing technique, the Fortus 900mc is able to 3D print high-performance materials such as ULTEM® (PEI) and Nylon.
Carbon Fiber Printer, number available: 1
Markforged Mark Two Build Size: 320 millimeters x 132 millimeters x 154 millimeters (12.6 x 5.2 x 6 inches) Build Volume: 12.6 inches x 5.2 inches x 6 inches Materials: Carbon Fiber, Fiberglass, HSHT Fiberglass, Kevlar, Nylon & Onyx
3D Printing System, number available: 1
Stratasys J850, Build volume 490 millimeters x 390 millimeters x 200 millimeters (19.3 inches x 15.35 inches x 7.9 inches) Simultaneously print in seven types of materials including, Agilus 30, Digital ABS, Draft Grey, Vero family of colors, Vero Clear, & Vero Vivid.
3D Printer, number available: 1
Stratasys F370 Build size 355 millimeters x 254 millimeters x 355 millimeters (14 x 10 x 14 inches) Materials: ABS, ASA, TPU, PC ABS, Diran, and PLA.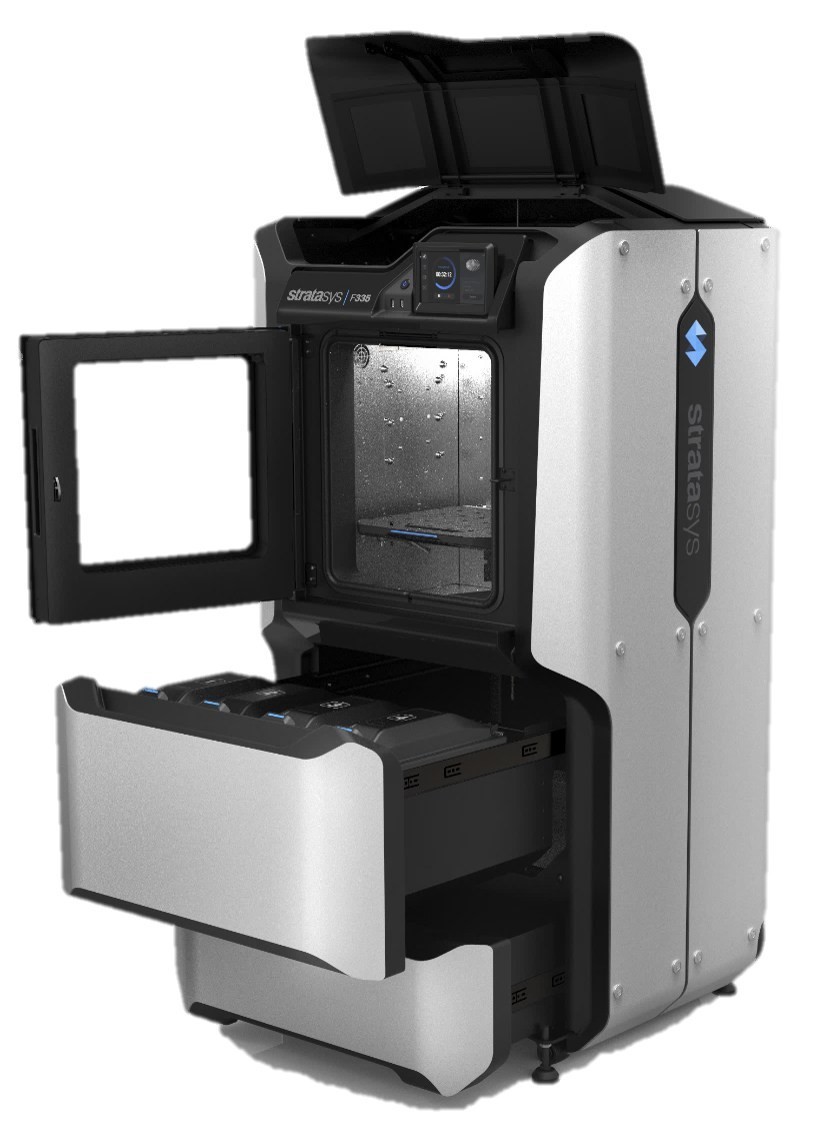 A Service-Disabled Veteran-Owned Small Business (SDVOSB)